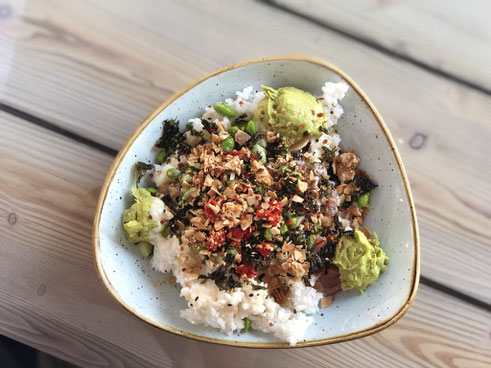 Following the food trend I am testing bowls in Düsseldorf on occasion. So far I have been very disappointed and I decide to have a snack at the ALOHA Poké which I already know from Munich. I have to admit that I liked it the first time I had it when I was there, so I have high hopes that I will find a decent bowl here, too. It is however quite frightening how they managed to expand in such a short time.
When you get to the place it already looks familiar. Even though the joint in Munich had a little more modern feel to it. In fact everything seemed new at that place. So, even though this place opened up shop not too long ago, it has somehow a little more washed up look. Not in a bad way but it neatly fits into the area.
Since I am hungry I order a large bowl and it is indeed large. Unfortunately there's too much rice in it and the sauce or dressing doesn't hold up against the other ingredients. The woman at that place had only the best intentions but it kinda ruined the total composition of this bowl. I still like the wasabi dressing and the ingredients are fresh and of good quality. Taste-wise it fell a little apart since there was too much going on in that bowl and I am not talking about my wild custom composition. However the rice(!) is good which is a first compared to the other bowls I had so far and the price is more than fair considering quality and quantity.
Even though ALOHA Poké has become a franchise it does its job better than a lot of the other wannabe trend surfers. I will come back for a regular bowl and see what's what.
---