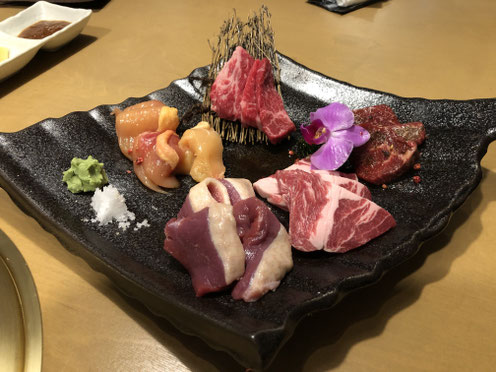 16 Dec 2017
I cannot help it but I love almost anything that's Japanese and has to do with food. So a new Yakiniku joint opened up and it didn't take me very long to pay it a visit. The interior is clean and modern and doesn't have that 70s feel that a lot of the other places have here in Düsseldorf. It is brand new and so it still smells a little of wood. The first that strikes you though that it doesn't have the smell of food and stir fry in the air. While the restaurant was not fully booked it is immediately clear that there is a fine ventilation system in place which makes it so much more enjoyable for guests to have grilled meat there. You don't have to plan ahead and around your visit because you smell like fish n chips. It is probably worse if you stand in a McDonald's for five minutes than having an evening at the Ah-Un. 
The prices do not seem very high at first glance but when you see the portions it will become clear that you might need a lot more than what you've ordered. Which in turn makes it quite an expensive experience. Meat quality is top notch. Soft texture and tasty. As the grill is installed into the table you can have it any way you desire. Service was swift and friendly at all times. It's still a plus when they speak more than just a little bit of German.
Yes, they even do serve wine but only a selection of reds and whites from Metzger. Pricing is ok but then again I wouldn't want a glass of Metzger with that food. Even though they serve a "Dry Aged" which is a Pinot Noir from the top of the Metzger range. 
So what's the verdict here? Great place with great meat and an enrichment for Düsseldorf's anyhow vast Japanese variety of restaurants. Just make sure to pack some money as you don't wanna go there and then start trying to save money by leaving things out or eating less. If you like Yakiniku you will not be disappointed. 
---