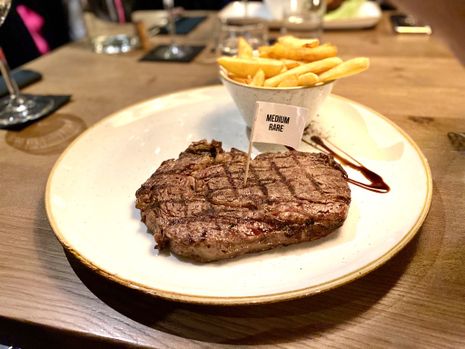 As it's Christmas time the place is packed but we made a reservation and have a large table on the upper floor. I haven't been to the ASH yet and I have heard differing opinions about this, so I am actually looking forward to eating here. The interior is very modern and it's one big open space. It's loud and our food takes forever. Not surprising given the amount of people in this place but still the waiting time is too long. However our waiter is very friendly and tries his best to make us feel welcome.
The tuna starter is atrocious. While the sauce actually tastes nice the quality of the tuna itself is subpar. It is cooked right, too, so I can only blame it on the fish. 
The steak arrives medium rare just as I've ordered it and as the little flag in the steak indicates. It's cooked on point but the texture on the outside feels leathery in my mouth and I am still wondering you can achieve this effect. Quality is good but as it's a flat cut the leathery texture blends with the tender inside to make an overall confusing mouth feel. Maybe if it wasn't that packed they wouldn't have cranked up the heat as much in order to get those steaks out. It's not a cheap joint though and therefore I expect a little more from my steak especially when I think that I can grill it better myself. I might come back but it's rather improbable as the ridiculous pricing in steak houses doesn't really lure me into them.
Nice effort but in the end rather disappointing.