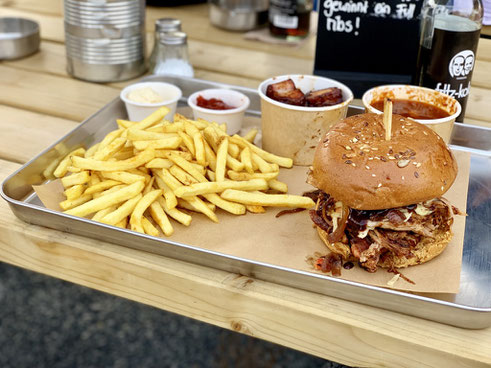 It's a public holiday and SMOKE BBQ has asked me to come by and try their newly founded BBQ shack. Since I don't have anything better to do I ask Lars to tag along and try this place. He has been here a couple of weeks before. The place has opened shop just a month ago. He never seizes to amaze me how he finds these places.
It's 6pm and we miss the last rib racks by a mere 15 minutes. They served 100 portions today and the owners are overwhelmed by the resonance. Philipp Klages is sorry since he remembers asking me to come by and now not being able to provide us with some ribs. We just ask him to whip up something with whatever is available. So, pulled pork burger, pork belly burnt ends and smoked beans with fries it is. I am hungry so I dig in deep. Admittedly I am not a huge pulled pork fan but this is actually good. Tender and without that dry feeling that those sometimes leave in your mouth. Smoky touch without overpowering any other taste and a delicious sauce to add juiciness. The fries are fine and I like the beans which are actually more like a chili but without meat. Well, don't be mistaken, it's not the Smoke BBQ veggie dish because it's fortified with some fat but absolutely tasty. Last but not least the burnt ends were just fantastic. A little crunch but soft and a mouthful of pork flavor. In your face! Packs a serious punch and makes you crave some more.
We have a very friendly chat with Philipp and he tells us all about his little secrets. No, not really but he walks us through the whole process and shows us his little kingdom that he has created in the middle of nowhere. He definitely has many ideas going for him and does not lack creativity. Looking at it now, I do believe that the little shack will work better than he would have ever imagined. Still, I gotta come back to try the infamous ribs and see what's what. The way things are going right now the Smoke BBQ is already a huge success and definitely an enrichment for Düsseldorf. Especially since a good BBQ is a gap in the market here. Good job and good luck, Philipp! Thank you for having us! I shall return.
---