Zimmerstrasse 28, Düsseldorf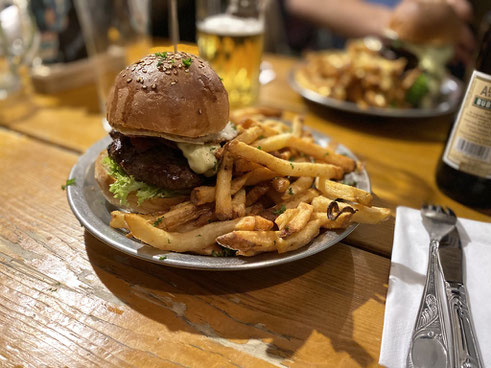 26 Dec 2017
Long time no see at the Stier Royal. Didn't have a burger in Düsseldorf for quite a while so I thought I'd hit the place closest to my home. And because I was lazy. Was well worth a visit. They still make a mean burger. Happy and full I went back home again. Actually, I think I went on to see the new Star Wars movie. 😂
 02 Nov 2019
Hittin' up burgers with Alex for dinner. Haven't been here in a while and my burger intake in general has dropped to an all-time low since the burger hype here in Düsseldorf and I basically lived off that shit.
The interior hasn't changed and it's crowded but we get a spot at one of the long tables.
It's the burger of the week "Bravocado" with guacamole, lime & chili, sriracha mayo, bacon, salsa pico de gallo, cucumber & shallots, sweet & sour red beetroot and fried egg on top. Awesome combination if you're really hungry. I still don't know how Alex managed to stuff in the double patty.
Quality-wise it's all business a usual. Good patty which is a bit too tall for my personal taste and could taste "meatier". But the combination is great and I'm not looking for the ultimate patty. The fries are good but I'm still missing the crunch. House style. Well, just writing about it makes my mouth water all over again. Couldn't have been that bad then 😉 .
Solid job as always! Good to see that they're still consistent!
---