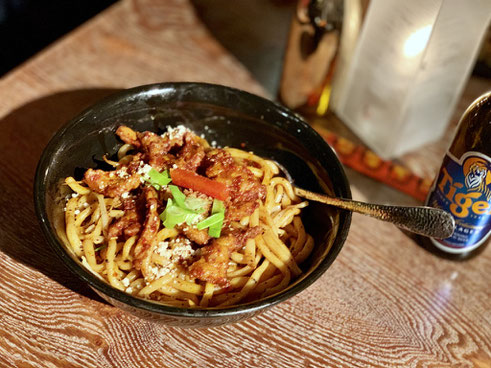 Raoul is in town for our GoodFellaz event the following day and is meeting some old university friends. We try to hit the Bob & Mary but they're completely booked which does not come as a surprise on a Friday night on short notice. So we wander the media harbor area and Benny suggests that we might try the Böser Chinese (Angry or wicked Chinese) as he has heard good things about it. I agree knowing that I had some really bad experiences but since they lay way back in the past and I don't wanna overcomplicate things I agree. Let's get a new and fresh picture about this place before I rant about it.
Oh boy!
I am reminded very quickly why I haven't been here for nearly 15(!) years. To say something positive, I need to point out that the service was very friendly, attentive and quick. Charming and always with a smile while catering to every odd wish we had. That's a big plus and you don't find that very often anymore. So hats off to the young lady that bussed our table.
The food. For starters I had the prawn Lanzhou style. Sweet-sour-spicy sauce. I am not familiar with Lanzhou cuisine or Gansu province style but to me it appears it's more of marketing gag so you don't have to write Prawn Sweet & Sour which would be very substitutable. And while I don't know Gansu province this dish is as arbitrary as it gets. My Handmade noodles are supposed to be special but the mian are squishy and the sauce is once more very arbitrary and substitutable.
For the money it's all fine as the quantities are large. But it sure ain't special nor authentic. The taste is pretty much europeanized to a degree that you will have difficulties to place it when tasted blindly.
When the "Peking Duck" for my friend came, I was completely done because what he had in his bowl had nothing to do with it. Just some duck that has been thrown into the deep-fry. Just as you can get it in any random Chinese fast food joint.
It might work for a lotta people out there and I'm sure no matter what I say it will do fine. That's why I even bother to write about it. I'm not here to try to destroy existences. But this place is outright terrible. The food is horrific.